A Waterloo Social Security disability lawyer will answer questions often asked about disability hearings.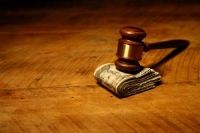 A Waterloo Social Security Disability Attorney Will Explain the Time Frame of Your Case
A Waterloo Social Security disability lawyer will explain to their clients how long it will take for a decision and the payment of benefits. Across the country, it takes an average of 15.5 months from when the hearing is requested to the decision.
It usually takes approximately two to three months before the claimant gets a decision. If awarded benefits, it can take one to two months to begin receiving payments. Back benefits can take between one and six months.
Your Waterloo Social Security Disability Lawyer Will Tell You About Notifications Regarding Your Hearing
The judge's assistant will contact your lawyer to make sure he or she is free on the scheduled day and your lawyer will call you. The judge will also send you a Notice of Hearing. If you receive the Notice of Hearing before your lawyer informs you of the date, your lawyer might not have been informed. Call your attorney as soon as possible.
Speak to a Qualified Waterloo Social Security Disability Lawyer
If you have questions about the amount of time it takes for your case to be heard and when you will receive payments, a Waterloo Social Security disability attorney can help. Call Hugh Field at (855) 801-1633 to discuss your case today.